LEGENDARY TERRAIN
More Vertical. More Terrain Parks. More Fun in Wisconsin.
VERTICAL DROP

700 ft.

COMBINED ACRES

400

BASE AREA ELEVATION

1,242 ft.

TOP ELEVATION

1,942 ft.

TRAILS

68

LONGEST RUN

TOP NOTCH->MIRACLE->LOWER DUSKEY

.8 MILES

TREE TERRAIN

7

TERRAIN PARKS

3

MOGUL RUNS

4

LIFTS

7

ANNUAL SNOWFALL

60 in.
With a high-speed six-pack lift, two high-speed quad lifts, two triple chairs and two surface lifts, we prioritize your time on the mountain.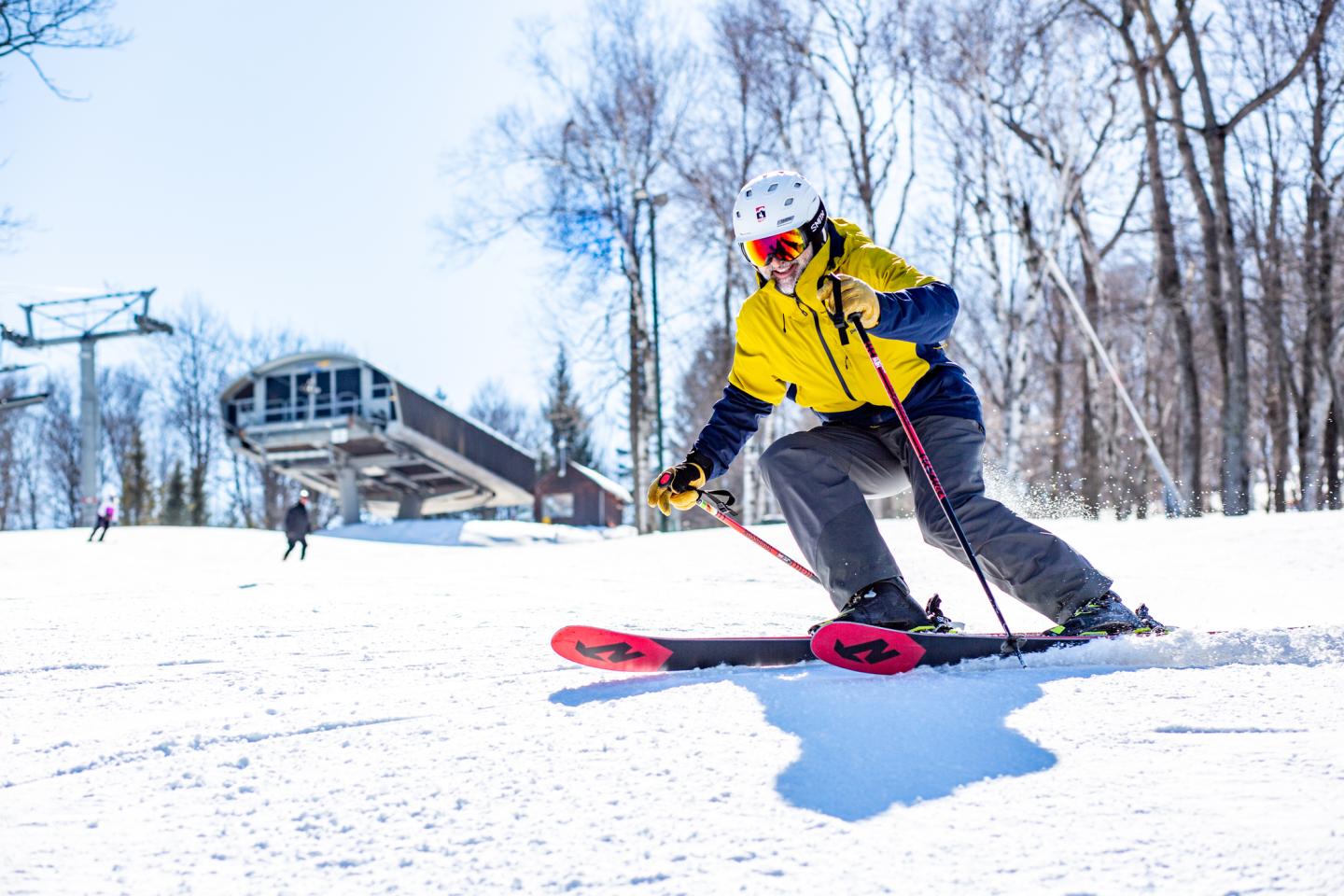 The Main Mountain
The core mountain off the Comet and Blitzen Lifts, you can find the most diverse array of trails. For beginners, this is where you want to start. From our beginner magic carpets Frosty and Blizzard, never-evers or those returning to the sport can practice in a low-drop area or take group classes to get back their 'ski legs'. From the beginner terrain you can advance to Mystery, Meadows, or Hot Cocoa for an easy Green cruiser. Must be able to ride the lift to access these Green trails!
At the top of Blitzen and the Comet Express, you can access our Blue and Black Diamond terrain, keeping you on your toes and in the same area as your friends and family needing to take it a bit easier. Not to mention, keeping you close to the warm fire pits, delicious hot cocoa, and hot snacks to break and refuel.
Eastern Terrain
Here you'll find some of our most difficult terrain, as almost all runs are Black Diamond. For skilled skiers and riders only, we don't recommend crossing into this terrain unless you feel confident in your abilities to navigate steep drops and narrow runs. You can also find glades and wooded terrain to maneuver your way through and test your agility.
Lights are installed on this side, allowing for night-time enjoyment until close. 
Access our Eastern Terrain via our Comet 6-Pack (via Summit Trail & to High Traverse) or the Blitzen Triple. Use the Cupid High-Speed Quad to make laps until close!
Western Terrain
Get to the West via the Comet Express Chair with numerous entrances off the Miracle Trail. The West features Blue and Black trails, moguls and fun terrain enhancements, taking you down some steep terrain with plenty to challenge our best skiers and riders. Find fun moguls on trails like Infinity and Bobcat and plenty of hand-cleared glades such as Beyond and Kingdom Glades. 
Make sure to also check out Red Quartz and Gem Stone trails, offering fun rollers and berms for the whole family as they wind through the trees in a boarder-cross style setup with no jumps.
Be sure to get back to the Dasher Express by 4pm (5pm starting in mid-February) as this section of our mountain does not have lights and closes for your safety.